Science of Philanthropy Initiative Conference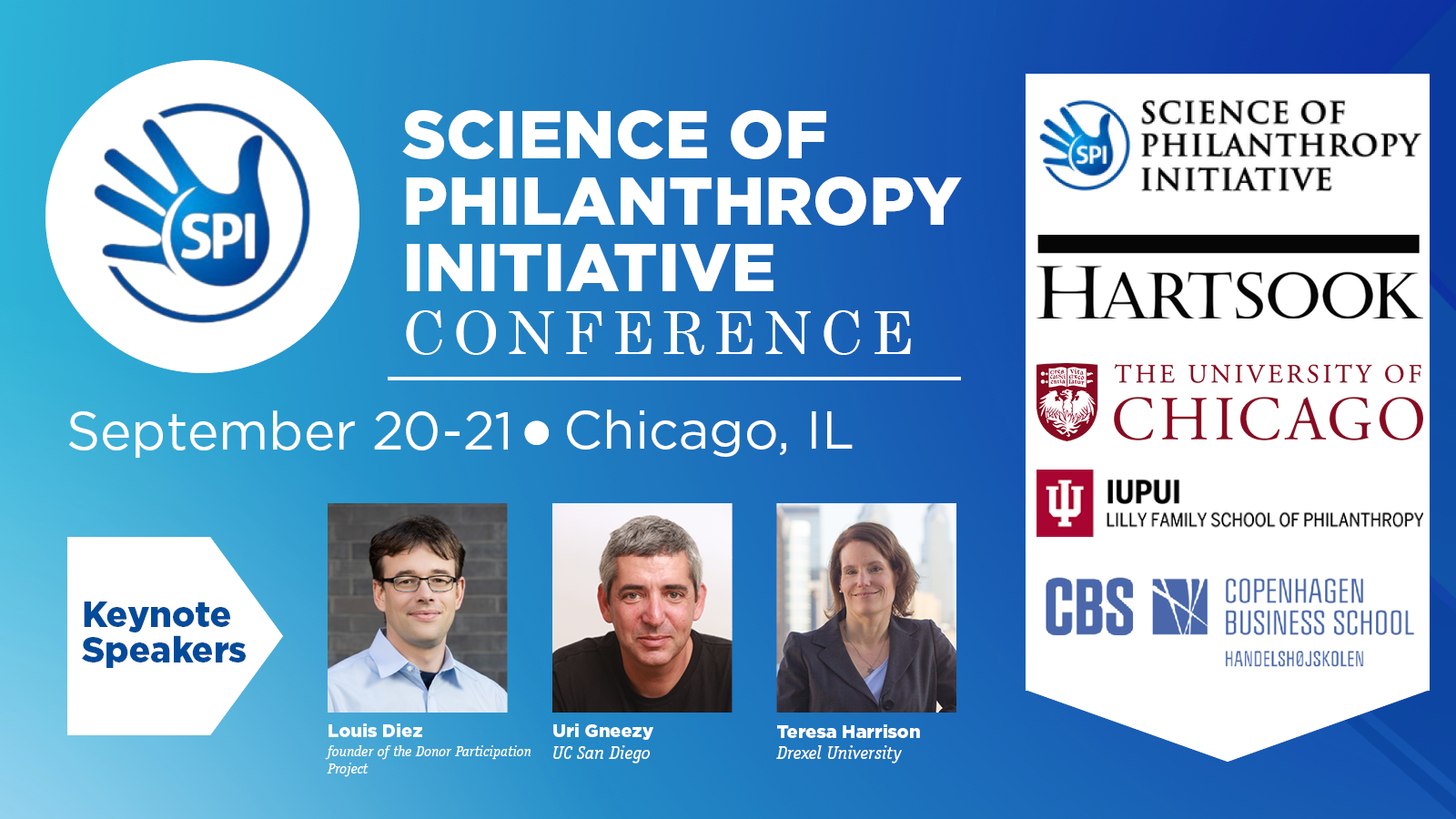 Science of Philanthropy Initiative (SPI) Conference
Keynote Speakers
Louis Diez, founder of the Donor Participation Project
Uri Gneezy, UC San Diego
Teresa D. Harrison, Drexel University
September 20-21, 2023
Location: Saieh Hall for Economics
The University of Chicago
5757 South University Avenue
Chicago, IL 60637
ORGANIZERS
John List, the Kenneth C. Griffin Department of Economics at the University of Chicago; Visiting Hartsook Chair at the IU Lilly Family School of Philanthropy
Amir Pasic, Indiana University Lilly Family School of Philanthropy
Luigi Butera, Copenhagen Business School
Christopher Clapp, Harris School of Public Policy
Sara Konrath, Indiana University Lilly Family School of Philanthropy
Mark Ottoni-Wilhelm, Indiana University Lilly Family School of Philanthropy
Rich Steinberg, Indiana University Lilly Family School of Philanthropy
ABOUT SPI
SPI is an initiative started by John List, Michael Price, and Anya Samek in 2012 to encourage experimental (field and lab) research on charitable giving. In addition to providing an avenue for research discussions, another aim of the conference is to bring together researchers studying charitable giving with practitioners in the field of philanthropy.
PROGRAM
Coming soon! 
REGISTRATION
Conference Registration: Registration is now OPEN. Register for SPI 2023 here. 
Conference Payment: Attendees must complete the Conference Registration Payment Form to attend SPI 2023. 
To attend the conference, registrants must submit both the registration form and registration payment. Without submitting both the registration form and payment, registrants may not attend the SPI 2023 Conference.
Presenter applications: Applications to present at SPI are now closed
CONFERENCE LODGING
Conference organizers have reserved a block of rooms for conference attendees traveling to the Chicago area. Rooms are available at: 
Hyatt Place Chicago-South/University Medical Center
5225 S. Harper Avenue, Chicago, Illinois, United States, 60615
Phone: (773) 752-5300
To learn more, visit this link and click "Book It" to access the conference room block discount. 
WATCH: Presentations from the 2015 SPI Annual Conference
Topics that are also of interest are volunteerism, the organization of charities/how they operate, and organ/blood donation. You can visit spihub.org/events/conferences to see the papers that were presented in previous years. [SPI2022] [SPI2020] [SPI2019] [SPI2018] [SPI2017]
General questions? Please contact SPI conference administrator Jamie Temmer.